The FN Corps was a military unit within the First Order army. It consisted mainly of First Order stormtroopers, and was commanded by Captain Phasma, and was deployed on missions to Pressy's Tumble, Jakku, and Takodana. It's headquarters were on Starkiller Base.
History
[
]
The FN Corps' first mission was to an asteroid cluster that the First Order used as a mining facility when the workers there went on strike. A fire team that included FN-2187, FN-2000, FN-2199, and FN-2003 executed the strike's leaders at the orders of Captain Phasma.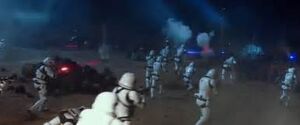 Shortly after the mission to Pressy's Tumble, elements of the FN Corps was sent to Jakku, where Resistance pilot Poe Dameron had been sent to retrieve part of a map to Luke Skywalker. They failed in capturing the map, but were able to take Dameron prisoner. FN-2003 was killed in action there, along with multiple other troopers.
The FN Corps was also sent to Takodana, where it was sent to capture BB-8, who contained the fragment of map needed to find Skywalker, or Rey, a scavenger from Jakku who had seen the map. Though the droid avoided capture, Rey was not so fortunate and was taken on board Kylo Ren's command shuttle to be transported to Starkiller Base, the FN Corps' headquarters. She later escaped and assisted in the destruction of the base.